How to Shop at a Farmers' Market
A friend of mine, Trish, told me that she avoids shopping at farmers' markets. Honestly, she was a bit scared because it is nothing like shopping at her local grocery store. I encouraged her to visit a farmers' market with me so I could show her how to shop.
I picked Trish up early on Saturday morning and we drove to the largest market in Delaware. On the way there, we talked about the type of food she likes to eat, because just like going to the grocery store, having somewhat of a list in mind is helpful.  Except for bananas – not locally grown – I assured her that I thought we would find everything she was looking for that was in season. When we arrived, we parked on a side road, grabbed our reusable tote bags and walked to the park.
I always love walking up and seeing all the white canopy tents set up against the green grass in the park, and the overall community feel to the market. This first look allows me to get an idea of the market layout. Some of the markets utilize a courtyard setup with all of the vendors set up along the outside of a square, others use a straight walkway with tents on either sides, while some of the larger ones will have the vendors set up on the outside with a few islands in the center courtyard. With more than 30 vendors, this market utilizes the latter.
I reminded Trish to think about her mental list, but before we checked off any items we were going to do an initial walk around the market. During my walk, I always look for:
Where vendors are located (it can change from week to week);
What produce and other items like honey, jams and jellies, cut flowers, fresh farm eggs, meats, etc. are available;
Who has more of what I need on my list;
How items are priced (by the bunch, container size, piece, or weight);
What and where the high demand items (typically fruit) are located; and
One item that looks interesting and I have never tried before.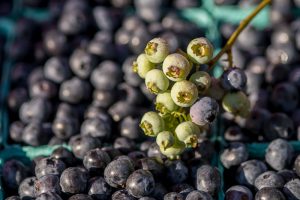 With our walk around completed, I suggested that we head over to get blueberries first. Only in season for about 8 weeks, people will line up all the way out the market to get local blueberries. While some vendors will accept credit cards, I always like to bring a bunch of $5 bills with me. It makes the exchange easier and quicker, so the farmer can keep moving product. I try to purchase larger items like sweet corn early, so it can on the bottom of my tote. This leaves the top for the more delicate items like fruit, lettuces, herbs, and cut flowers. Last on the list is always eggs. The vendor can do a better job keeping them at the proper temperature in a cooler on ice, than I can in my tote walking around the market.
By the time we were done shopping, Trish had overcome her fear of shopping at a farmers' market. She engaged in conversation with several of the farmers, learning how they grew different items and getting tips on how to prepare the fruit or vegetable. Trish made purchases that she never would have in the grocery store because the colors and variety were more attractive. In fact, she bought quite a few items, like the cucamelons that weren't on her list.
Don't be afraid to shop at your local farmers' market to enjoy locally grown, in-season produce.