Thanksgiving Tips
The holidays bring togetherness and a delicious meal with family but with cleaning, cooking, traveling and a few surprises, Thanksgiving can serve up a side of stress. Here are a few tips to help you take control of the small stuff and get ahead of that holiday gathering.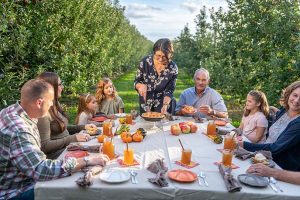 Thaw With Me
If you purchased a frozen turkey start thawing sooner than later. The amount of time it takes depends on the size of your turkey and if you plan to thaw in the refrigerator or a cold water bath. Remember never thaw at room temperature.
Bake & Freeze Dessert 
Make those delicious desserts a day or two in advance
Helping Hand
Have every guest bring a dish, it's helpful, brings variety, and saves you time.
Avoid Too Many Leftovers
Avoid too many leftovers with this tip, 1 pound of turkey for each guest.
 Clean As You Go
The more cleanup you can do while you are working the less time you will spend cleaning after.