Thanksgiving Ideas to Keep Your Family Safe During the Pandemic
With COVID-19 still spreading throughout Delaware, having large indoor gatherings isn't safe for many. The Center for Disease Control and Prevention (CDC) recommends celebrating virtually or with members of your own household this Thanksgiving as a way to stay in touch while slowing the spread of the coronavirus.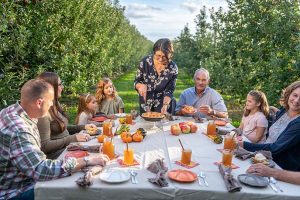 Let's Feast Outdoors
We know it may be chilly but a great alternative to eating indoors is spreading out under a tent in your backyard. The CDC states outdoor gathering poses less risk of exposure to COVID-19, and the fall foliage makes a beautiful backdrop to your Thanksgiving celebration. Break up seating into smaller groups based on households to make mealtime safer. Don't forget to keep warm with blankets, heaters, or firepits.
Go Virtual
Send out a meeting invite through, Zoom, Skype, or Facetime and enjoy each other's company without physically gathering together.
Deliver Dinner
Pack up that amazing meal and celebrate with your family by delivering Thanksgiving dinner this year. When you get home everyone can enjoy the meal together through one of the virtual apps mentioned in #2 Go Virtual.
Volunteer
There will be many individuals unable to leave their homes for Thanksgiving who would love a contact-free delivery of turkey and pumpkin pie! Call a local organization like the Food Bank of Delaware or Meals on Wheels to see how you can help!