The Scoop on Blueberries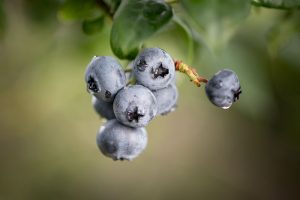 An early Mid-Atlantic Women in Agriculture pioneer, New Jersey's Elizabeth Coleman White helped develop the high-bush blueberries we have come to love.
In 1910, at the age of 39 Elizabeth came across a USDA report about blueberries from botanist Frederick Coville. He had determined that the wild blueberries near his New Hampshire home grew better in areas that were not bothered by people and had acidic soil. The report suggested if grown in the right conditions that blueberries could potentially be a food crop.
Living in the area known as the "Pine Barrens," Elizabeth had seen wild blueberries growing with much success in the forest around her farm in Whitebog, NJ. She requested that USDA conduct similar studies utilizing her farm and funding. Elizabeth recruited locals to find and submit wild blueberry bushes with the largest berries growing in the nearby pine forests. She took to naming the blueberry bushes for the individuals who found them. These plants became the stock Frederick Coville used to clone and cross-pollinate plants that by 1916 became the basis of the "tame" high-bush blueberry industry.
Today we have 19 farms growing blueberries in Delaware – mainly in Kent and Sussex Counties. With nearly 30 acres, most Delaware grown blueberries are purchased at farmers' markets, on-farm markets, and at u-pick operations from mid-May through mid-July.
Due to the high bush varieties, U-pick blueberries are extremely popular for farm visitors of all ages. The height of our blueberry bushes allow for adults to pick the higher levels, without having to reach up above their heads, and young children to pick from the lower levels.
Here are some tips to make your blueberry picking trip a success:
• Call the farm before you head out to make sure their blueberries are ready. Most farms will require you to use their buckets to pick for food safety reasons, but ask when you call.
• Plan to pick early in the morning or later in the afternoon to avoid the harsh sun and heat.
• Wear a hat and apply sunscreen prior to getting to the farm.
• A lot of people will only go about 50 to 100 feet into the row to do their picking. If you are willing to be a little more adventurous, head to the middle of the row or further and you will be rewarded with lots of plump berries.
• You will want to pick the plump, dusty blue colored berries. Put your bucket under the clump of perfect blueberries and tickle them off the stem with your fingers. You will be surprised how quickly your bucket fills up this way.
• As yummy as blueberries are, try to refrain from eating them at the farm.
If you prefer to eat local blueberries all year long, wash and drain your blueberries in a colander. Then spread them out in a single layer on cookie sheets, pat them dry and place them in the freezer. Once they are completely frozen, place them in a zipper freezer bag and store in your freezer for up to 10 months. Since they are individually frozen, you can pull out what you need for smoothies, blueberry muffins, and our Delaware Grown Blueberry Buckle, and Delaware Grown Kale and Blueberry recipes. (Link Delaware Grown Blueberry Buckle and the Kale and Blueberry recipes).
For more on blueberries:
• How New Jersey tamed the wild blueberry for global production
• Bringing a child to pick blueberries, consider reading Blueberries for Sal by Robert McCloskey.